Beschrijving
The words 'ethical' and 'hacking' aren't often found next to each other, due to the preconceptions of hacking as being a dark, dangerous and underground profession. The truth in fact, is quite the opposite. As the world's infrastructure becomes increasingly reliant on technology and the internet, the amount of threats facing this technology rises alongside it. To combat the increased threat on cyber security on a global scale, cyber security experts must learn to think like hackers, and use their methods, techniques and tools against them.
In 2016, the World Economic Forum ranked cyber attack above drug trafficking in its Global Risk report, which means companies now more than ever, need to invest and cyber security experts, and that could be you!
The only way of studying CEH online in the UK & Ireland is though E-Careers, as we are the exclusive partner of EC-Council for online training.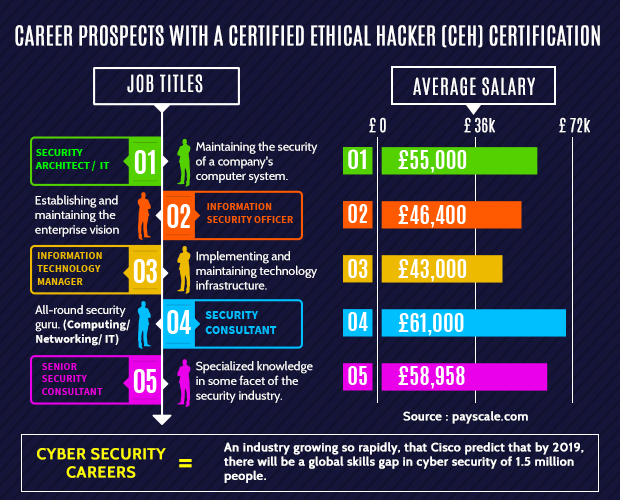 What Is The Need for CEH In The UK?
Completing this CEH course can enable you to join a rapidly growing industry, an industry growing so rapidly in fact that Cisco estimate there are 1 million job cyber security job openings worldwide. Michael Brown, CEO at Symantec has estimated that there will need to be 6 million people qualified to work in cyber security in 2019, however there will be a shortfall of 1.5 million people. This means that you can future proof your career today and ensure that you will be one of the most in demand people in the job market in the years to come.
This Certified Ethical Hacker course will introduce you to all the main threats to information technology systems, with the most updated syllabus from the world-renowned EC Council. EC-Council has trained over 80,000 individuals and certified more than 30,000 security professionals from organizations such as the United Nations, Microsoft, IBM, US Army, and the FBI. EC-Council's certifications are recognized worldwide and have received endorsements from various government agencies. With globally recognised names like those behind it, there's no doubt the UK's biggest companies will soon be adopting CEH, so get ahead of the curve.
CEH comes with a huge reputation and glowing recommendations from across the pond, and is now a crucial part of training one of the most secure cyber defense systems in the world, in a country that leads the way in technology and cyber innovation. What this means for the European and indeed the UK cyber security market is that it's only a matter of time before CEH becomes the benchmark for cyber security certification. That is why we are so excited to be the exclusive partner with EC-Council in the UK & Ireland, we can offer you the chance to get ahead of the curve before the boom, and secure your future.
Who Is The Course Aimed At?
The Certified Ethical Hacking training course will significantly benefit security officers, auditors, security professionals, site administrators, and anyone who is concerned about the integrity of the network infrastructure. CEH is also the market leading qualification for those who wish to move into a new and emerging field. CEH can enable you to work in the following job roles, to name a few:
Penetration Tester
Cyber Security Analyst
Ethical Hacker
Security Architect
Information Security Officer
Security Consultant
Senior Security Consultant
Applicants may be screened during application to make sure they work for legitimate and relevant businesses. There is also a student form to sign before you start the course, as an agreement that you will not use anything learned in a malicious way.
WHAT WILL I LEARN?
The goal of this course is to help you master an ethical hacking methodology that can be used in a penetration testing or ethical hacking situation. You walk out the door with ethical hacking skills that are highly in demand, as well as the internationally recognized Certified Ethical Hacker certification! This course prepares you for EC-Council Certified Ethical Hacker exam 312-50.
ADVANTAGES OF THIS COURSE
This course package makes learning affordable and all-inclusive.
Peace of mind that course content is endorsed by industry organisations.
Comprehensive encyclopaedia of modern hacking techniques, threats, hacking tools, and how you can prevent them.
EC-Council's exam process meets globally recognised standards ISO/IEC 17024.
A course for business, tech and security professionals, so they can stay ahead of the game and prevent attacks.
The benefit of live labs put together by security experts to mimic real life situations.
The option to proceed to two further stages on the EC Council Information Security Track.
Master thinking like a hacker, and use the skills learned to benefit your business and defend it against future system attacks.
Learn at your own pace, at a time to suit you, with access periods to course material up to a year and labs for up to a six month.
Peace of mind that you will only be learning with a community of applicants from legitimate businesses.
Further or expand your career options as a security officer or system administrator.
Gain certification that will be an impressive addition to any CV.
 Units of Study
An Introduction to Ethical Hacking
Foot Printing and Reconnaissance Techniques
Enumeration
System Hacking
Malware Threats
Sniffing
Social Engineering
Denial of Service
Session Hijacking
Hacking Web Servers
Hacking Web Applications
SQL Injection
Hacking Wireless Networks
Hacking Mobile Platforms
How Hackers Avoid Firewalls, IDS and Honeypots
System Security and Cloud Computing
Cryptography